"BEAUTIFULLY MADE TO ORDER"
COTTON

COTTON & FAUX MODERN CUSTOM CURTAIN COLLECTION

Robert Allen
Hyland Collection
Contemporary Cotton
Printed Cotton Drapes
Geometric Drapes
Solid Cotton Custom Drapes
Solid Velvet Drapes
Kids Custom Drapes
Chateau Poly Drapes
Custom Outdoor Drapery

COUTURE

SCHUMACHER, KRAVET & DRAPESTYLE COUTURE DRAPERY

Kravet Custom Drapery
Martyn Bullard for Schumacher
Custom Hand Woven Silk
Schumacher Custom Drapes

SHEERS
ROMAN SHADES

CUSTOM ROMAN SHADES & WINDOW TREATMENTS

Custom Roman Shades
Cotton Roman Shades
Solid Linen Roman Shades

HARDWARE & TIEBACKS

CUSTOM DRAPERY HARDWARE - TASSELS & TIE-BACKS

2-1/4" Decorative Wood
1-3/8" Decorative Wood
1" Classic Iron
Chicago Square Iron
Classic Wood
Toronto Glass
1-1/8" Stainless Steel
Easy Pull Drapery Hardware
Double Track Traverse
Tassels
Pillows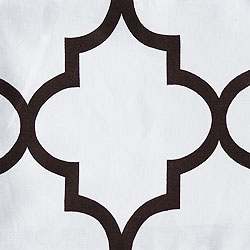 Gate Black / White
You will love your new Custom Drapes in any of these incredible contemporary cotton blends

If you don't see Exactly what your looking for? Just call a DrapeStyle Designer at 800-760-8257 and we will be happy to provide you with a custom quote on any size drapery panel.

Click for Live Help Now!
Related Items
Priced from: $429.99
Priced from: $459.99
Priced from: $459.99
Priced from: $249.99
Priced from: $429.99
Priced from: $459.99
Priced from: $459.99
Priced from: $252.95
Priced from: $351.99
Priced from: $319.99
Priced from: $259.99
Priced from: $359.99
Priced from: $299.99
Customer Reviews
Average Customer Review:
1 Review
WRITE A REVIEW and share your thoughts with others.
Incredible Drapes, 6.23.2011
Reviewer: Colette (New York, NY)
I love my new drapes from DrapeStyle! Ive been looking for a more contemporary fabric that fit within my budget and was very happy to find them at such a great value. The quality is impeccable!
---