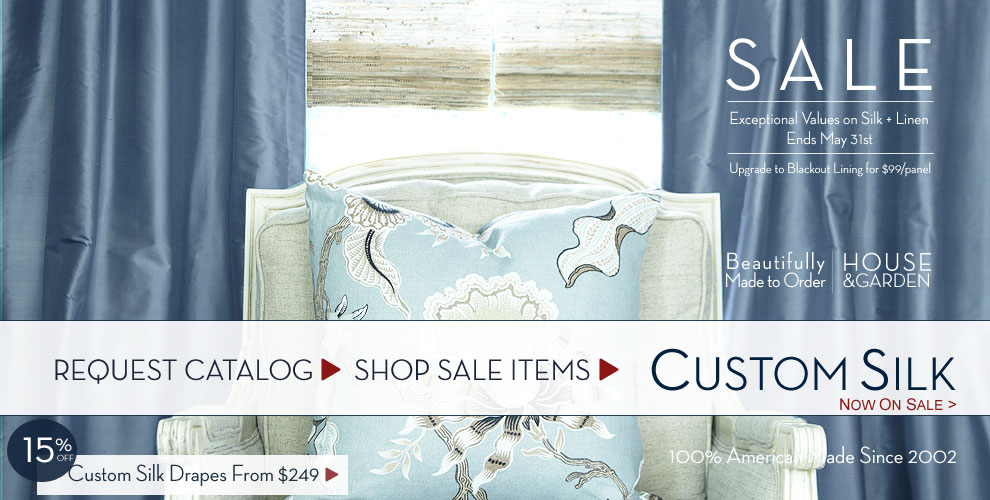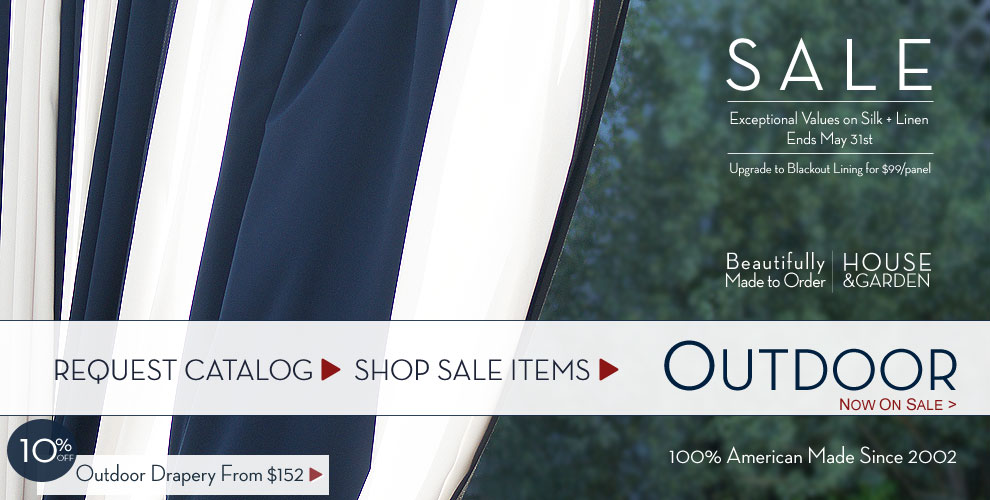 Who doesn't love a Sale? When you buy your curtains or draperies from DrapeStyle you are buying directly from the Manufacturer. When we get discount pricing from our Fabric Mills we pass those savings on to our Customers. For a limited time you can upgrade to Blackout Drapery Lining for just $99per panel!
Shop Sale Drapes >
For over a decade DrapeStyle has been hand-making custom silk drapes in fine Indian & Italian Silks for Designers throughout the US and Canada. These are the Original Custom Silk Drapes that House & Garden called "Beautifully Made to Order" and for a limited time they're 15% Off!
Shop Custom Silk Drapes >
At DrapeStyle we offer amazing fabrics from some of the best Designers in America. Our Clients are loving our Robert Allen Collection featuring rich colors and organic designs. Unlike "Ready-Made" curtains in standard sizes, DrapeStyle will make your drapery in the exact length and width you need, no compromise.
Shop Robert Allen Custom Drapes >
We make our Roman Shades and Roman Blinds right alongside of our Custom Curtains and Drapes for consistency and quality. Whether you are looking for Traditional Drapery or Contemporary Roman Shades we offer over 300 Designer Fabrics to choose from. And, of course, expert advice is only a phone call away.
Shop Custom Roman Shades and Blinds >
Schumacher is one of the oldest and most respected Fabric Mills in America. Their Fabrics have been used in some of the finest homes including the White House. With over 25 years of average experience, our Talented Team of Seamstresses are exactly who you need to make your Luxury Designer Curtains and Drapery right here in the USA.
Shop Designer Drapery >
We love to combine fabrics into unique styles especially Silks and Linens. Since we manufacture each drape to order we are capable of making your drapery in any width or length imaginable. And, if you need a little inspiration or some help measuring your windows, just call one of our talented Designers for help. 800-760-8257.
Shop Custom Linen Drapes >
Nothing is as classic as custom striped silk drapery. We offer both Silk Taffeta and Silk Dupioni to choose from and both have been used for luxury drapes for hundreds of years. Be sure to order samples so you can feel the quality silk fabric for yourself.
Shop Custom Silk Drapes >
We've spent years looking for the finest, softest, warmest linen we could find. We found it. Our new Estate Linen is simply the best linen we've seen for making the most luxurious linen drapery available. And each drapery is made in our own studio to your exact specifications.
Shop Custom Linen Drapes >
When we have overstock fabrics, remnants or drapes we use for photo-shoots, we love to offer them to our Customers at huge discounts in THE | OUTLET. We update the inventory in THE | OUTLET everyday and if you see something you like you better grab it fast, most Outlet drapery are one of a kind and don't last long!
Shop THE | OUTLET >